The land of the Royals – beautiful queens and erstwhile Kings; but what makes it so famous among both locals and tourists? If the thought has crossed your mind, the answers are unravelled here!
Packed with soulful history, deep-rooted tradition, unmatchable culture and exuberance that seems to pervade in every nook and corner, Rajasthan is a state whose attractions are innumerable. Just like any other state in India, Rajasthan boasts of a glamorous history. But the majestic realm of its glorious heritage as reflected in its imposing forts and extravagant palaces makes it all-deserving of the title 'The Land of Kings'.
As you step into this world that seems to be a bygone era, there is a sense of belongingness; an old world charm drawing you more intently that will keep you coming back for more. The sense of royal virtuosity that looms around is something that makes Rajasthan the top of every traveler's bucket list. But there is much more to this vibrant state that cannot be compartmentalized in a matter of descriptive words. From vast stretches of sun-kissed deserts to unending ranges of winding hills to natural habitats that shelter some endangered species of wildlife to ramparts of narrowing alleys in downtown communities and bustling marketplaces, Rajasthan will not leave you dissatisfied.
It is undoubtedly home to some of the most striking wonders that you may come across. But, mind you! – Unravelling these countless treasures that scathe this vast landmass is time-staking. Nevertheless, for all of you who are in for a little bit of exciting adventure, hop onto a bicycle and traverse across the rugged trails of this magnificent place. Make the unconventional move of taking a detour from the customary tourist trail and take the road less traveled; for what better way to unravel the splendor of this remarkable jewel than on a humble bicycle? It might seem too much of an effort. But nothing can compare to the experience of being out there amidst all the fun, frolic and fanfare. Not even the comfort of having one's bottom plonked on the cushions of an air-conditioned car.
Cycling Through The Sands Of Time
Let's face it; covering an area of 342,239 square kilometres of land on a bicycle is quite overwhelming. In fact, covering half that area is pretty much an achievement. But, in a matter of just 11 days, you can partake in one of the best cycling trips in India without missing out on any of the must-dos that every travel itinerary to Rajasthan includes. Pedal through winding passageways of old cities untouched by modernisation, meander through craggy strips of twisting hills and battle with gusty winds that sweep across sand dunes. The cycling trips in India across Rajasthan are quite diverse covering a mixed terrain and might appear to be bursting with intensity. But the journey is sure to you leave you packed with memories beyond compare. After all, life's a climb, but the view is great!
Here are the top 9 reasons why you must travel to Rajasthan:
1. Shopping from local artisans from the colourful markets in Jaipur

The Pink City is bursting with colour, noise and an unparalleled enthusiasm that seems to be brimming in every local soul you meet. However, its true spirit is found in the humming, bargain-filled bazaars of the old city. The warmth of local vendors and mind-boggling talent of local artisans is welcoming enough to leave you packing with handcrafted bandhani sarees and ornate silver jewellery to last you a lifetime. The variety of the items displayed leave you spoilt for choice.
2. Bicycling along the Aravalli Hills & the scenic ride along the countryside to Pushkar
Riding along the rugged and uneven terrain of the Aravalli Hills is definitely an adventure cycling tour that might probably require a lot more gusto than you'd imagine. But the spectacular, breath-taking view that emerges out of the forest ravines makes the adrenaline rush all the more worthwhile.
Apart from the thrill of off-roading, bicycling in India along the quaint countryside is an eye-opener. From undiscovered hills and fallow land to unperturbed villages and acres of mustard fields, there are unravelling mysteries that seem never-ending.
3. Spot the Blackbuck along Chandelao Garh
The view of the countryside of the secluded village of Chandelao is truly mesmerizing. But if your luck just as well plays right, then you may encounter the impressive spiral horned blackbuck which is an endangered species. Not only is it quite ravishing but witnessing such natural beauty makes it feel like a part of a bigger paradigm.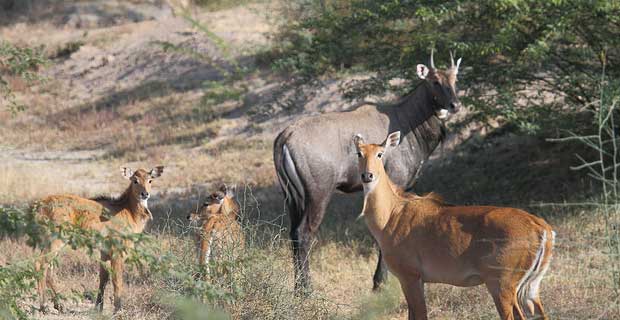 4. Spot Wildlife at the Kumbhalgarh Wildlife Sanctuary
Ride up the Aravalli range with gentle gradients to reach the Kumbhalgarh Wildlife Sanctuary which is 3600ft above sea level. Here you can witness the diversified wildlife and varied landscapes. Roving through the quiet lanes amidst the wildlife is an excellent avenue to soak in nature's bounty.
5. Soak in the culture of Udaipur
Popularly referred to as the 'Venice of the East', Udaipur sports many lakes and palaces that transport you to a time of the Rajasthan's glorious past. There's a feeling of unmatched romance that looms through the air resonating a leisurely, laid-back spirit. All in all, it is city missing out on which would be a travesty.
The best way to sink into the historic culture is by staying in heritage havelis (accommodation) that take you back and make you feel as a part of the regal era. Few good choices include the Sumode Haveli, the Taj Jai Mahal Palace and the exquisite Chomu Palace.
6. Guided walks along Palaces and Forts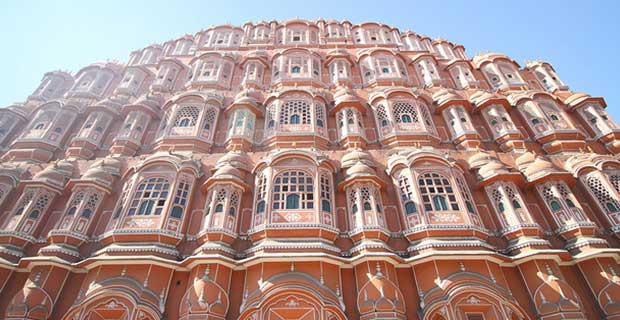 If there's one word that defines the splendour of Rajasthan, it's 'royalty'. A tour around some of the many imposing forts and magnificent palaces will leave you star-gazing at the quantum of architectural marvel packed into tiny cities. Some of the must-visit palaces and forts include the airy Hawa Mahal and Amber Fort in Jaipur, the spectacular Umaid Bhavan Palace in Jodhpur and the floating Lake Palace in Udaipur.
7. Visit the Ranakpur temple
While Rajasthan's culture is an impeccable facet, the mythology and religious tenets that stoop the masses is quite admirable. One of the best examples that stand as an epitome of this prevalence is the Ranakpur temple. Adorned with white marble and intricate carvings, the fascinating Ranakpur temple is a masterpiece reflecting traditional craftsmanship. As the temple bells chime and serenity magnifies across the hallways, there is no better way to experience this sense of calmness after a tiring journey.
8. An evening of Manganiyar performances
From the obscure villages tucked away in the corners of Rajasthan comes a community of artistic performers whose melodies will keep you swaying all throughout your journey. This traditional folk music may not be everyone's cup of tea, but it will surely keep you entertained.
9. Indulge in mouth-watering Rajasthani cuisine
Rajasthani cuisine is a delightful fusion of tastes and textures that will keep you wanting more. The cuisine varies across regions. But it sure does have a certain authenticity unlike any other. A trip without trying some of the must-try delicacies will definitely not be complete.
With majestic palaces, antique sand-castle forts and pastel coloured cities packed with a rich heritage, Rajasthan is a state that comes with an immense array of mesmeric charms. It's time to experience the heart and soul of Rajasthan.
If you are looking for an experiential bicycle tour through Rajasthan, please CLICK HERE
Social Share