CHASE THE NORTHERN LIGHTS
Stirring landscapes
Placed in Europe, Norway is a country that has incredible natural beauty from its fairy-tale like fjords to glaciers, grand and glorious that snake down from icefields to impressive mountain backdrops to the staggering beauty of the Arctic and to endless lakes. No matter where you find yourself in this Scandinavian country, these landscapes will serve as a captivating backdrop.
Sophistication of Scandinavia
Norway's unfair abundance of natural beauty's counterpart can be found in its vibrant cultural life. Not only are Norwegian cities cosmopolitan but they also showcase the flair Scandinavians have for design – contemporary Arctic-inspired architectural images embellish cities and countryside's alike. Food is another passion by means of which boundaries of innovation are pushed by Norwegians. Cities like Troms are swarming with hotels and restaurants that are internationally renowned, alongside galleries, museums and shops. Smaller towns look rather nondescript from the outside but they shield a wondrous interior – unique history, special culture and Arctic wilderness at their doorstep, offering activities for your arctic adventure like husky sledding to spending a night in an igloo to cross-country skiing!
Wonderful Wildlife
In Europe, when it comes to wildlife, Norway has hardly any peers. Here, off Andenes, St or Troms, in the right season, you can set sights on whales – humpback, sperm and orca. The interior offers sightings of the prehistoric musk oxen, wild reindeer, beguiling Arctic foxes or ponderous elk (moose). From the migratory seabirds of Runde and Varanger to the puffins of Bleik, bird watching is a highlight too. But the prize inhabitant in the High Arctic are polar bears, they are poster species for a wilderness of rare and dramatic beauty
The Action
It's a constant active pursuit to enjoy nature in Norway, and this an exciting and adventure-based tourist destination in Europe. There are activities for the energetic, fearless or the young, but most – cycling, dog-sledding, skiing, snowmobiling in winter, white-water rafting in summer and world-class hiking can be enjoyed by anybody of reasonable fitness. Whether you are visiting for the seemingly endless summer possibilities or stopping by in winter for the soul-stirring northern lights, all activities are an invigorating step of getting closer to nature.
Chasing the lights – sky is the limit
Bait, which allures travellers from all over the world to Norway, is the 'northern lights'. It is a spectacular natural phenomenon; your visit to this Scandinavian dreamland or your Arctic expedition is incomplete without catching a glimpse of the dazzling spectacle – northern lights.
As the name suggests, the further north you head, you have a better chance of chasing the lights.
This natural wonder, also known as 'aurora borealis', is created by a collision between particles that are electrically charged, which are emitted from the sun at the time of a solar flare, which penetrates the magnetic shield of the earth and collides with molecules and atoms in our atmosphere. These lights can be seen above the magnetic poles of the southern and northern hemisphere and it brings the sky to life with an other-worldly illustration and fortunate star-gazers can be spectators to anything from pulsating scarlet streaks across the sky to an ethereal green glow on the horizon. The lights intermittently shift in intensity and take on patterns that seem to stem from the vivid imagination of a child.
From October to March, the northern lights are visible throughout the long night sky in the Arctic.
These lights are at the mercy of nature, which is why you are not guaranteed of a sighting, however, there are a few phenomena's that capture the imagination like the aurora borealis and it's definitely worth the Arctic Expedition. But if you are lucky enough, it's an experience that will live with you forever.
Apart from the parading lights, your Arctic Adventure includes numerous activities.
DOG SLEDDING

Dog sledding – steering into the white desert
There's no better way to explore the Arctic wilderness during your Arctic expedition than being pulled on a sled by a team of our furry four-legged husky friends. Blissfully free from engine noise and steering clear from the din of modern life, the soundtrack that accompanies you is that of yelping dogs and the sled scraping across the ivory snow. Dog sledding can last from half-a-day to multiday expeditions. It takes you out far north into the trackless world and lets you to immerse yourself in the eerily beautiful light of the Arctic winter.
You can enjoy the frosted white wilderness as a passenger on the sled or try your hand as a musher and steer your own pack of dogs (for the more adventurous and brave).
Visiting the Munch Museum in Oslo
A monographic museum that is dedicated to Edvard Much (1863-1944), one of Norway's greatest artists, houses the largest collection of his work throughout the world. There are 28,000 items including 4500 watercolours and 1100 paintings, several of which were gifted by Munch himself.
All of Edvard's possessions were left to the city of Oslo, who then built a museum specifically to house them. His most famous work is The Scream (1893) which is held in the National Museum of Art, Architecture and Design, Oslo.
The Munch Museum is the perfect place to view his paintings collectively.
VEIGELAND PARK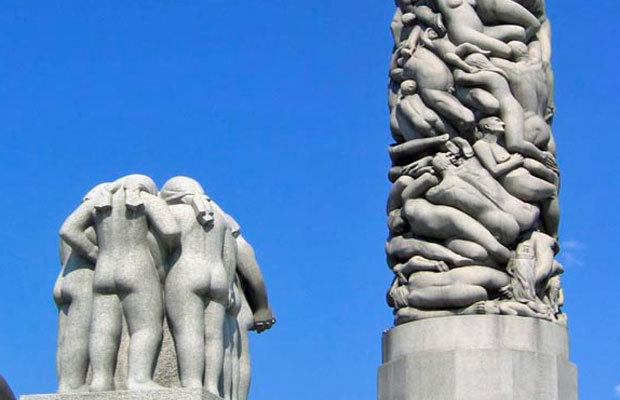 Picnic in Veigeland Park in Oslo
One of the largest sculpture parks ever made, The Veigeland Park has sculptures made by a single artist, Norwegian Gustav Vigeland. The park boasts of over 200 pieces. The sculptures include everything from a naked man fighting flying babies to a woman embracing a giant lizard and everything in between.
As you amble down the main boulevard you will make your way past various landmarks and it is around these landmarks that the numerous sculptures are focussed. A thick air of awe will constantly waft by you every time you pass a statue.
Of the many, the most prominent sight of the park is 'The Fountain'. It's a glorious structure which is encircled by 20 sculptures and each of them depicts diverse stages of the life of humans, starting from childhood till death.
Nobel Peace Prize Museum
The Nobel Peace Prize was founded by Alfred Nobel who also invented the dynamite.
The Nobel Peace Prize Museum is dedicated to his story and also some famous winners of the prize, known as laureates. State-of-the-art technology has been used which brings displays vibrantly to life.
Royal Palace in Oslo
The Royal Palace is the residence of the King of Norway. At present, that is King Harald V and Queen Sonja.
The building was completed in 1849 and has a new-classical style with a fascia of stuccoed brick.
The palace is surrounded by The Royal Palace Park on all sides which feature small ponds, majestic trees, grassy areas and several statues.
A popular tourist attraction in Oslo that is a sight to witness is the changing of the guard. To watch this extravagant performance head to the Karl Johanas Gate at 1:30pm daily. The entire process of changing of the guard takes about 40 minutes and the royal guards who partake in the changing of guard in Oslo are called as the King's Guard. The duties of these men and women include sentry duties and guarding the royal residence round the clock.
WHALE WATCHING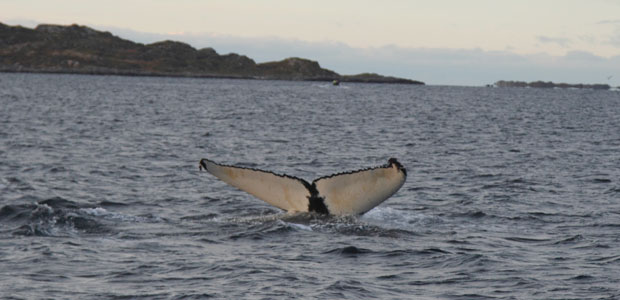 Whale watching in Troms
On a whale-watching tour, you can spot humpbacks, orcas and wildlife such as sea eagles and seals. You will cruise around many islands, pristine fjords and wait for the moment that the mighty mammal's breach, flip, dive and spout and splash in the water. All along the way, you will learn interesting facts about whales and their behaviour. Apart from whale watching, you can keep your spirits high by indulging in some delicious tapas, Arctic fish and hot beverages. Keep your camera always ready as there are plenty of incredible photo opportunities all through the ride.
Conjuring allurement
The gods, in all their glory, set forth to create magic. After decades of culling their ideas, they painted a landscape so ineffable that its sight left mankind flabbergasted; Norway. Recognized as one of the happiest places to live in, this dreamy country will welcome you with open arms. It's a wonder how, with every turn you make or corner you pass, the view ceases to remain beautiful, if not more desired. The land is proud of its fjords and it's difficult to bring up Norway without mentioning them. 'The land o the midnight sun' boats of boundless lakes of surpassing beauty, soaring mountains that fight winds and culture that is deep-rooted not only in the people but the land as well. If you do not want to say goodbye to this dream, the world would understand.
Social Share