While you "travel" through Bhutan, the one thing that is most important is the mode of transport you choose to traverse through these delightful dense valleys where happiness is akin to holiness.
Here's why we made the humble bicycle as a suggestion, in Bhutan there is a King who travels on a bicycle. It may sound like sentence straight out of a fairy tale but it is what it is. Jigme Singye Wangchuck, Bhutan's fourth Druk Gyalpo, or Dragon King, is an avid cyclist who can often be found pedaling the steep foothills that ring the capital city, Thimphu. You'll hear many stories from the locals, like the time he stopped over at a grocery store while cycling to pick up fresh oranges, or the time they bumped into him on his morning ride. Yes, it is truly a humble mode of transportation and the Bhutanese love it.
After much thought (well, not too much…the cycle is our favorite way to get around too) we listed out a "What not to miss" list while cycling and experiences that complete your journey through Bhutan.
1. Interact with the locals-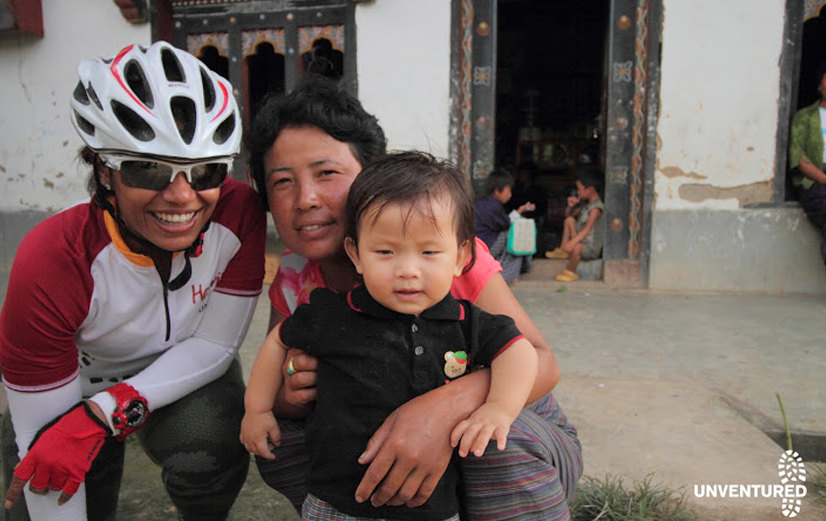 Listen to the many stories they have to say about their kingdom and their way of life. The legacy of Bhutan is best heard from a local who will tell you about modern Bhutanese cinema to ancient occultism in one breath. Who can resist a smiling and playing peek a boo with a willing young tot.
2. Relish a picnic in the woods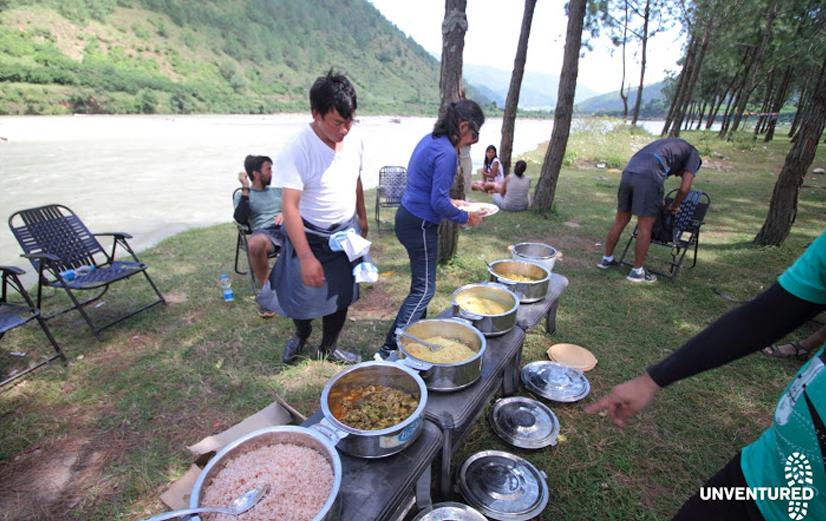 Bhutan is about enjoying the simple things, making time for friends, for nature, to simply sit down and watch Mother Nature wrap you in her beauty. A picnic lunch savoring some delicious "Ema Datsi" (Chilli and Cheese) and corn rice to make up for post ride hunger pangs and the setting by river side is ideal to unwind and relax.
3. Ride the 2nd longest suspension bridge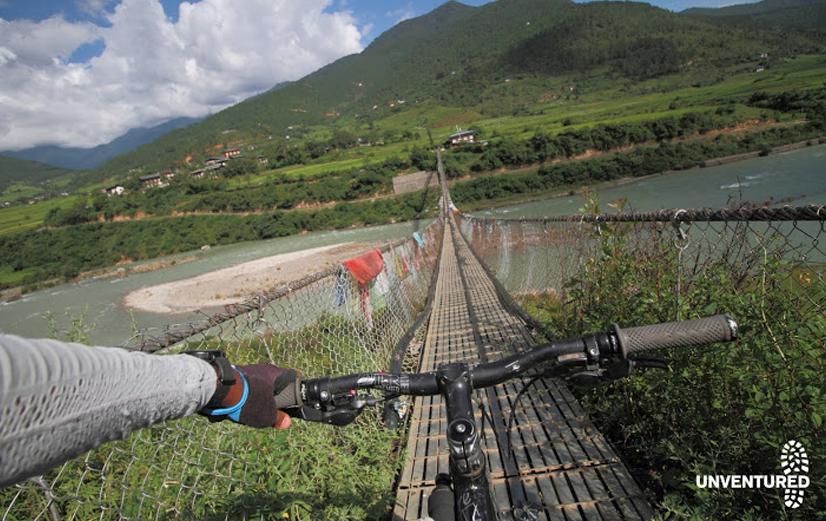 If you want an instant adrenalin rush, then it can't get better than this. The bridge built over the Pho-Chu river is the 2nd longest bridge connecting to a near by village. We had many riders ride back and forth for that rush. Walking the line? We say ride it.
4. Try your hand at archery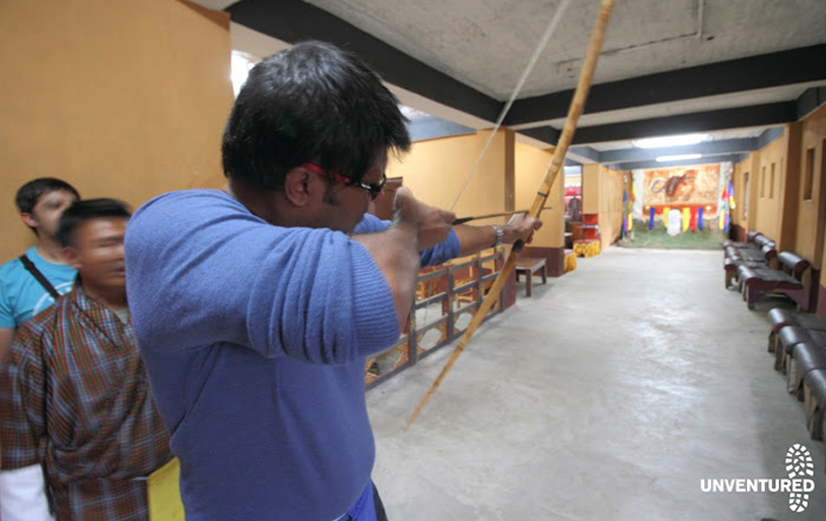 Archery is the national sport of Bhutan, what started as a means of hunting and fighting wars, most notably against invading Tibetans and the British in 1864-65 has now evolved into a social game with 260 Odd participating teams each year in the capital city. What's exciting is the cheering and jeering when the archer hits or misses target, all done in the spirit of fun and sportsmanship.
5. Feast on some local cuisine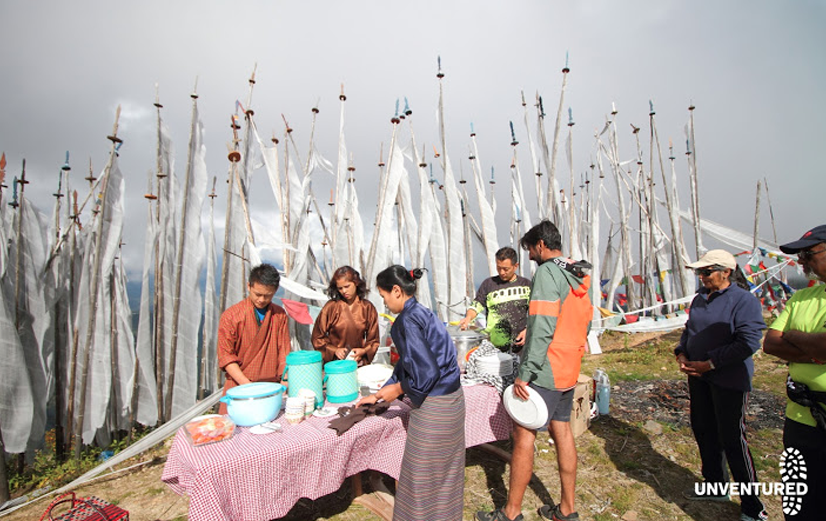 Ema Datsi(Chilli and Cheese) Kewa Datsi (Potato and Cheese) Phakshaa Paa (Pork in spices), Jasha Maru (Chicken Curry) or Khabzey (Savory fritters) these are just some of the delicacies to savor on. Local traditions influenced in their cuisine make a scrumptious and nutritious meal or snack and what more…did we already mention post ride hunger pangs? A legit reason to make up for all the calories burnt.
6. What good is a holiday if you DONT gather….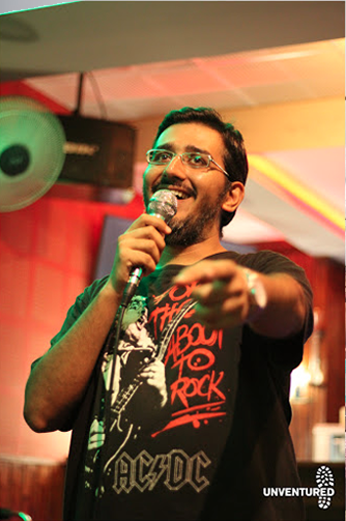 A wise man once said "Where words leave off, music begins" be it singing the old Bohemian Rapsody or the Bhutanese version of "Gaganam Style", you have to give it a shot and cheer for your fellow crooners. What good is a holiday if you gather a few laughs and cheers.
7. When in Bhutan, drink as THE Bhutanese do
When in Bhutan, drink as Bhutanese do. Red Panda Beer is an unfiltered, preservative free brew made in the old school way in small batches of only 3000 bottles per month. This is a "must drink" on any beer connoisseur's list. Not to forget the cordyseph wine barreled at local home to savor along with some local cheese. You have earned your post ride Beer, there is no challenging that!
8. Hiking up to the Tiger's Nest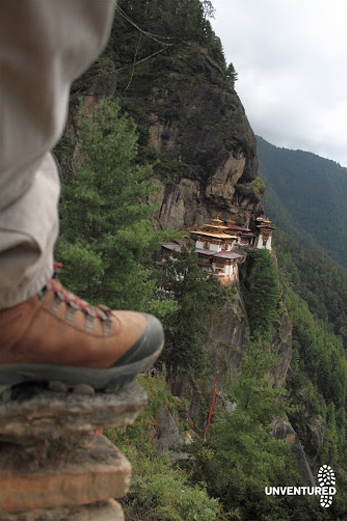 Tiger's Nest Monastery is believed to be the birthplace of Buddhism in Bhutan, making it the most sacred monastery in the country. Precariously perched high up on a sheer cliff a dizzying 10,000 feet/3,048 meter above sea level, it certainly also has the most stunning and fascinating location. The climb is through beautiful views of the monastery at every turn and a photographer's delight.
9. Cycling up Bhutan's highest motorable road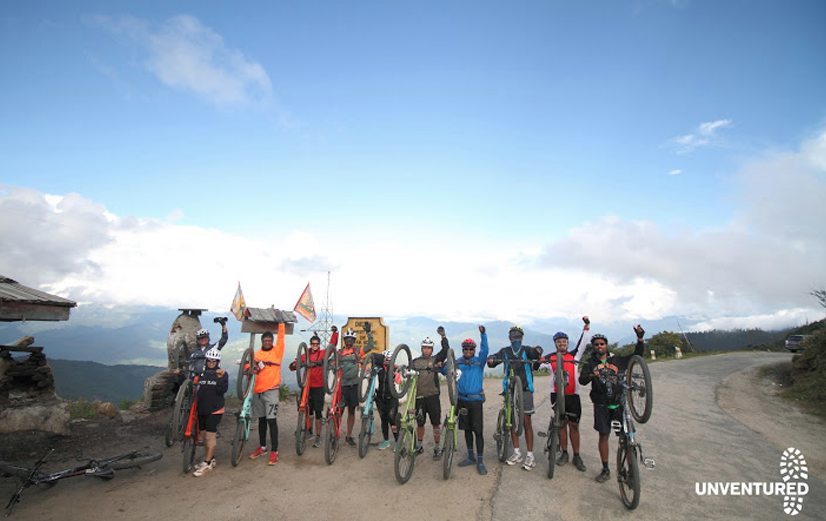 The Chele-La pass at 3810 meters offers a spectacular view that impresses the senses – As you ride the views of the glorious mountain panoramas is in all directions, snow capped peaks of the Himalayas to the north, including the Everest range. The gentle rustle of prayer flags keep you company to the top along with soaring eagles as you climb up every bend. What more? When you take this challenge with like minded travellers…everybody summits.
10. Cham Dance lessons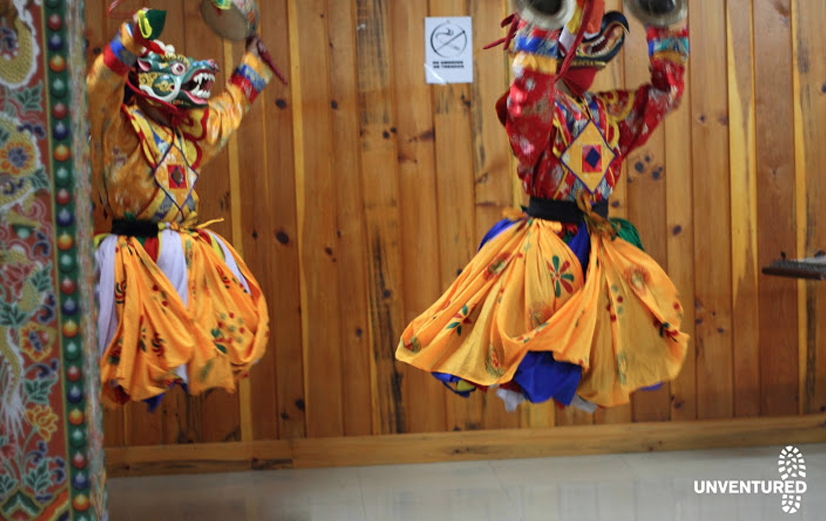 What better way to end an experiential vacation with a session of Cham dancing with the local group. Learn of their legends, stories in the form of dance and the Bhutanese way of a Happy life.
This list is just a glimpse of what you will experience in the mystical Kingdom. Every traveller comes back with memories that make Bhutan a special memory you will cherish for a lifetime.
Here's what one of our traveller's have to say….
"Bhutan cycling and hiking with Unventured"

Seeking a exotic scenic vacation filled with adventure? Look no further. Cycling in Bhutan with Unventured will be an experience of a lifetime. Unventured takes care of everything – tickets, permits, food, lodging, cycles, transport, safety and even photos. You dont have to be a pro-cyclist to participate. Lot of us came with almost no prior experience with long distance/mountain biking, but the Unventured team provided full support at every stage.

I cant wait to cycle again with the Unventured team!
Social Share